Framed in powder-soft beaches and breathtaking ocean views, the Eastern Caribbean is the ideal dream-like destination from which to admire your surroundings and awaken the senses that get lost in day-to-day living. Rise with the sun for a rejuvenating yoga session on the beach or feel the cool sea breeze blowing through your hair while you enjoy a massage on your private terrace. Gaze out at the ocean as you melt into your private beachfront soaking tub, then enjoy a pampering facial while being swaddled in warm, fresh linens. With luxurious private sanctuaries on some of the world's most peaceful beaches, the Eastern Caribbean is a hub for wellness and relaxation. Read on to discover some of our favorite destinations to calm your mind and cleanse your spirit.

ANGUILLA
With quixotic sapphire coves fringed by radiant white-sand beaches, gently swaying coconut palms and a rum-soaked, relaxed vibe, Anguilla is nothing short of the postcard island retreat. Yet as a favorite vacation spot for the stars and home of some of the world's top-rated beaches, visitors notice something different about the culture of this particular island. The 35-square-mile paradise is one of the only islands in the British West Indies to preserve an embargo on high-rise hotels, cruise ships and casinos. This endeavor to preserve the island's natural beauty and indigenous culture maintains a sense of tranquility matched by few Caribbean destinations.
The island's indigenous Arawak people play a prominent part in Anguilla's unique culture, and evidence of the Arawak people can still be admired in petroglyph rock art works around the island, such as those at Fountain Cavern National Park. The Arawaks achieved relaxation of mind and body through practices to awaken the mind and calm the spirit. At Belmond Cap Juluca you can find harmony with nature and refocus your energy with ancient therapies, rare indigenous botanicals and a holistic approach to healing inspired by indigenous Arawak techniques, such as Anguillian salt exfoliation, sage bush cleansing and heated volcanic stone massage.
Alternatively, rejuvenate with a sugar cane body exfoliation treatment finished with a coconut creme massage, and feel your worries melt away with a massage using naturally warmed seashells, lava and salt water at the glamorous Malliouhana, An Auberge Resort. Perched atop a breathtaking panoramic bluff, this paradise retreat is surrounded by 25 stunning acres of lush landscaped gardens and azure ocean views. Here, the soft white sands of mile-long Meads Bay and secluded Turtle Cove are guaranteed to lull you into a state of quiet island bliss.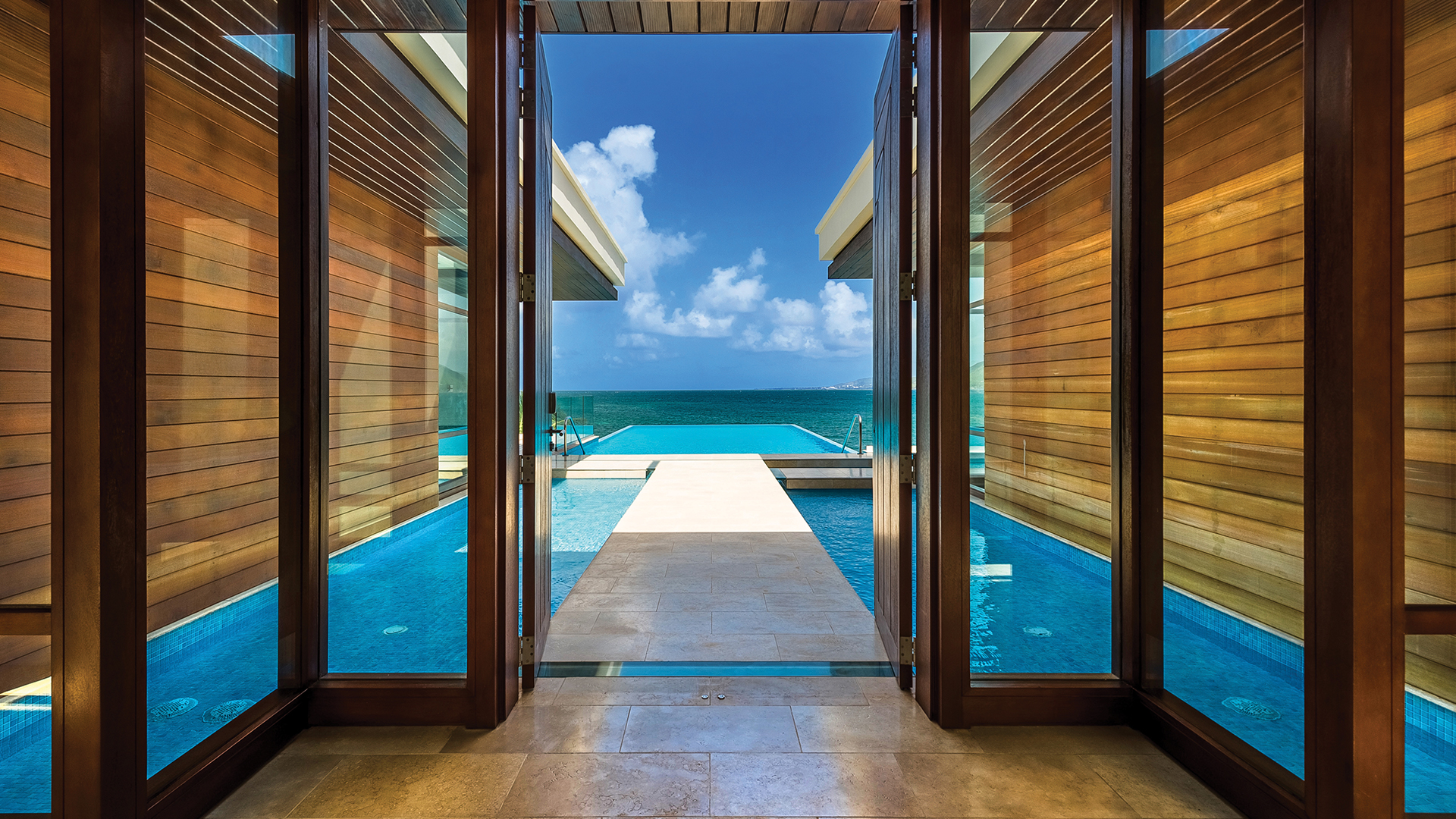 ST. KITTS & NEVIS
The two-island nation of St. Kitts and Nevis has all the draws of a beautiful Caribbean destination: Wide, sandy beaches, crystal clear water, picturesque ocean panoramas ... but it also boasts many activities other islands do not. Tour historic fortresses and preserved sugar plantations, stroll through its colorful colonial capital, explore lush jungle trails that meander beyond the calls of civilization and marvel at mountain peaks that seem to disappear into the clouds. If you take your relaxation with just a touch of adventure, this is the spot for you.
For a taste of Caribbean charm, opt for the five-star Park Hyatt St. Kitts along beautiful Christophe Harbor, where the Miraval Life in Balance Spa offers tranquility and relaxation in spectacular surrounds. The beachfront spa features nine treatment rooms with a selection of body and facial treatments, exclusive massage menu and the one-of-a-kind Sugar Mill yoga and meditation studio.



ST. MARTIN
Part of the Leeward islands of the Caribbean, this island is technically two separate countries - the French side of Saint-Martin and the southern Dutch side of Sint Maarten. Foodies take heed, as this unique cultural fusion is responsible for some of the best cuisine in the Caribbean. And if you're in search of a bit of retail therapy, the upscale couture boutiques and duty-free shops won't disappoint either.
If you're seeking a spa treatment as luxurious as its surroundings, don't miss the top-rated Belmond La Samanna, where seven lavish treatment rooms - each with its own private Zen garden and outdoor shower - open out onto lush tropical gardens of verdant Baie Longue. Unwind with an indulgent Roucou pre-tanning treatment before enjoying the sun-drenched beach, feel your tension slip away with a tropical Lomi Lomi massage.