Mexico's art scene is on fire thanks to murals, folk art and museums

Mexican artist Enrique Chiu is working on what he hopes will become the world's longest mural-a colorful, politically relevant, 600-mile statement on the current border fences in Tijuana. He sees the "Mural of Brotherhood" as a symbol of unification between the U.S. and Mexico.
The powerful artwork is reflective of Mexico's rich art history and present-vibrant, bold, ambitious, culturally revealing, open. Here you will find original masterpieces from esteemed artists like Frida Kahlo and Diego Rivera, all while discovering new contemporary masters. From the top-ranked museums of Mexico City to the graffiti art of Puerto Vallarta, here's what to look for on your next art-filled voyage south of the border.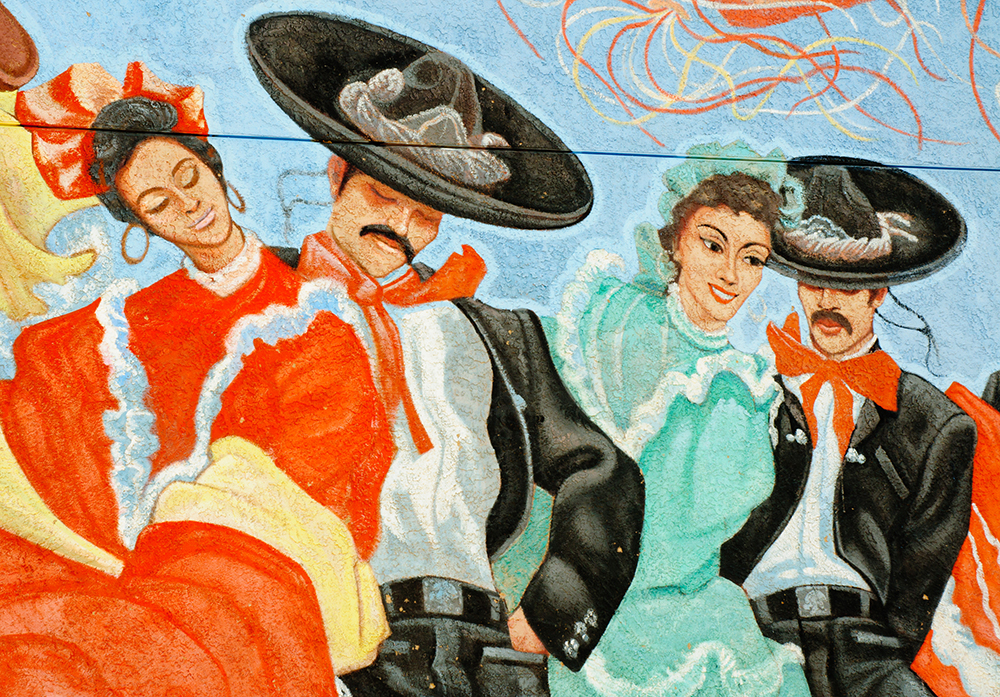 MURALS
Chiu is working in the tradition of a long line of muralists who put Mexico on the map as an art destination. Most famously, "Los Tres Grandes" (the dynamic trio of Diego Rivera, Jose Clemente Orozco and David Siqueiros) responded to the Mexican revolution via murals meant to inspire and inform. The government commissioned Mexican artists to teach the public, particularly those who were illiterate, about Mexican history after the war. This task resulted in public works of art that not only educated its citizens but defined the trajectory of Mexican art.
Emblazoned across civic buildings such as schoolhouses, the subtly Marxist artworks saw the influence of Cubism and the employment of intricate techniques like fresco and mosaic. Visitors to Mexico City can view many of these spectacular murals at the Palace of Fine Arts; some of Rivera's most famous works are also on view at the National Palace, such as "The History of Mexico," a detailed depiction of suffering and success in battle that covers 1,000 square feet.
This focus on free, public art has continued in Mexico to this day. Anywhere you go (Puerto Vallarta, Tijuana and Playa del Carmen come to mind) you're bound to spot murals lovingly constructed by Mexican artists paying homage to history.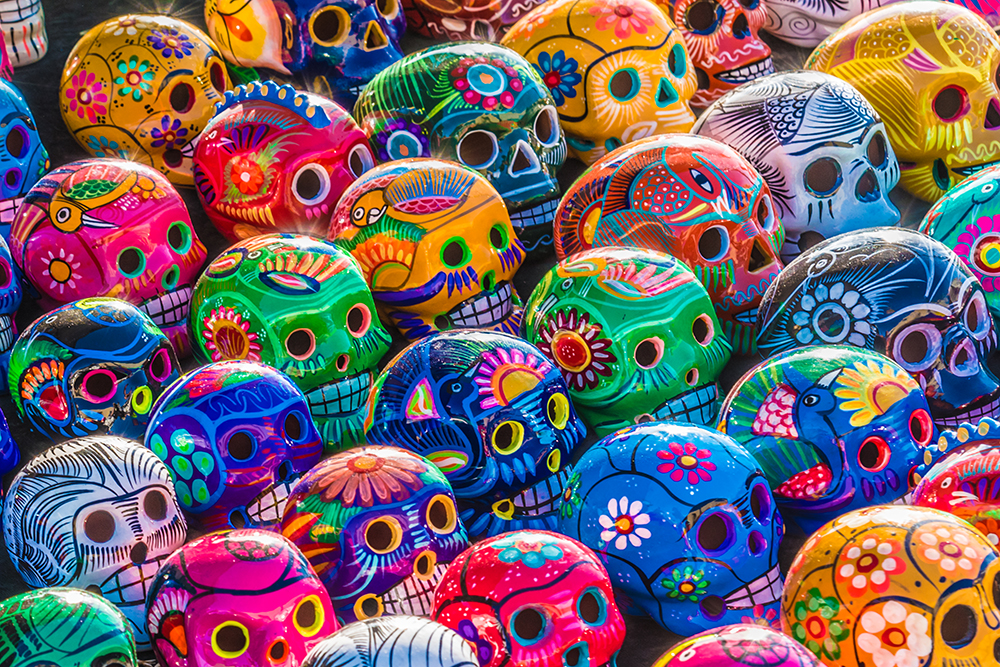 FOLK ART & CRAFTS
Painted skulls smile at you from shop windows, inviting you to take them home. This cheeky reminder that death is nothing to fear can be seen throughout Mexico, in festival celebrations and in folk art traditions; skeleton ladies (catrinas) were created by lithographer and printmaker Jose Guadalupe Posada in the 19th century and reproduced in clay for the first time by artist Juan Torres in 1982. Oaxacan wood carvings, multicolored paper mache skeletons (alambroides) and Day of the Dead dioramas in tin or wood cases are popular folk art creations.
Small towns are the place to find niche markets for crafts. Onyx and marble household goods can be found in Tecali de Herrara, a name that translates to "stone house." Ceramics are big in the Guadalajara region-the Museo Regional de la Ceramica and Museo Pantaleon Panduro in Tlaquepaque and Museo Nacional de la Ceramica in Tonala explore the history of handmade artworks in the area. Puebla and surrounding villages are known for Talavera Pottery, a specific earthenware style that makes use of 16th-century Spanish methods.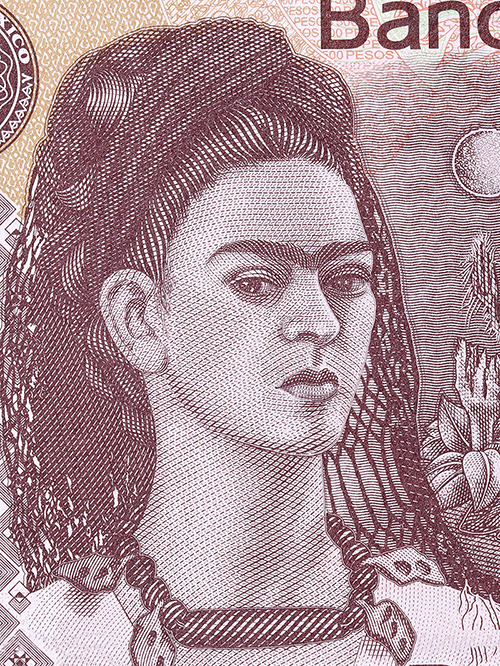 FINDING FRIDA
Legendary artist Frida Kahlo deserves her own category. Kahlo's vibrant self-portraits during the 1930s and 40s drew inspiration from Mexican folk art, surrealism and magic realism, and addressed themes of physical and emotional pain, serious health issues and a difficult marriage to muralist Diego Rivera. The self-taught, politically engaged artist's striking paintings include "The Two Fridas," "The Broken Column" and "The Wounded Deer."
Kahlo fans can easily find her work in Mexico City where she spent much of her life. The Frida Kahlo Museum is located in her childhood home, La Casa Azul, and includes letters and objects from the artist in addition to paintings. The Museum Delores Olmedo includes 25 of Kahlo's paintings, along with some sketches and drawings. "The Two Fridas" can be viewed at the Museo de Arte Moderno, which houses hundreds of works from Mexican modern artists.
MEXICO'S MUSEUMS
Mexico City has the second largest number of museums in the world! Here are a few of our favorites from the city and beyond.
Museo Nacional de Arte: This national art museum in the center of Mexico City holds an impressive range of Mexican and international art from the 16th to the mid-20th century.

Museo Subacuatico de Arte: See statues as you snorkel at this immersive underwater art museum in Quintana Roo that's fun for the whole family.

Museo de Arte Popular: For a true understanding of Mexican folk art, head to this quirky Mexico City museum for skeleton art, religious artifacts, pottery and other unique cultural objects.

Soumaya Museum: This museum is visited as much for the architecturally astounding building as for the art inside of it. Check out how it's tiled with 16,000 aluminum hexagons.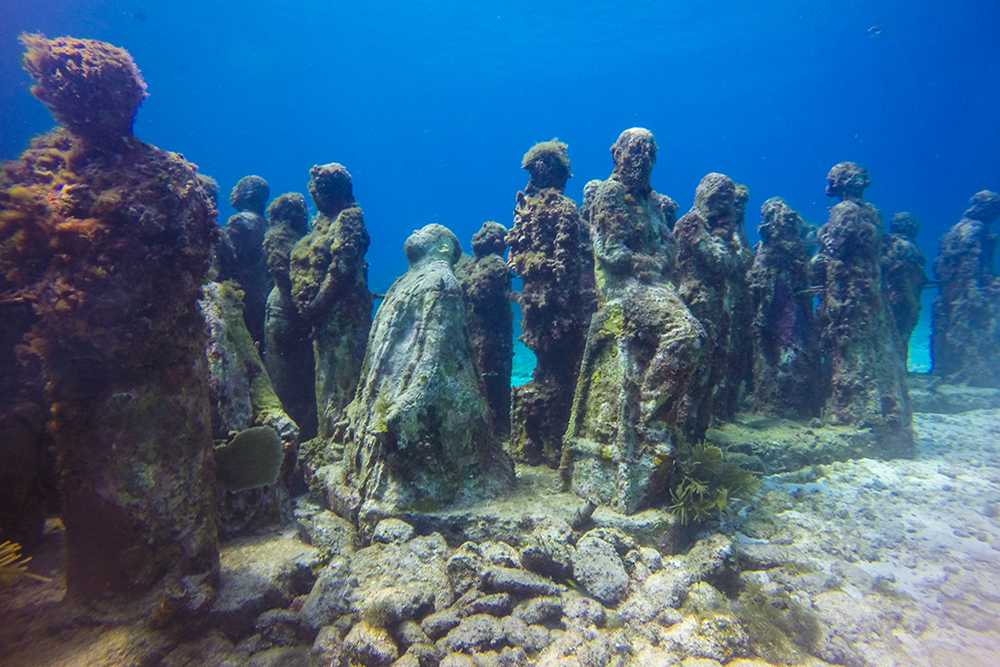 WHERE TO STAY
Receive unique amenities to enhance nearly every moment of your Mexican journey when you book through our agency. Our advisors will take great care to plan every element of your vacation, all while providing VIP-worthy privileges through our exclusive [multisite.site_brand]SELECT program.